Welcome to Pebble Creek Farm
Pebble Creek Farm is a covenanted swim and tennis community in Grayson, Georgia. Our community consists of 207 single family homes.  Pebble Creek Farm is located in one of Gwinnett County's most convenient areas.  
Incorporated in 1902, Grayson is proud of being a small town and protects its small-town atmosphere with their motto: "Welcome to Grayson, Gwinnett's best-kept secret." This quiet residential community is known for its great schools, tight-knit neighborhoods, and small-town charm.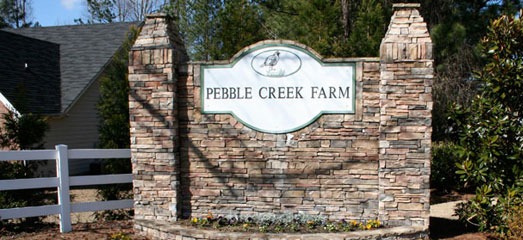 Modification Request Form (MRF)
Do you have changes you want to have approved for your property?  This Web Based form now allows all homeowners to START the MRF process quickly and efficiently.
Latest News & Announcements
The very latest Pebble Creek Farms community news, events, announcements, and ACC information and reminders
Community Recreation Information
The Pavilion at Pebble Creek Farm is a great place to host parties and events.
Reserve the Pavilion today for your next social event.
Check Recreation Calendar for available dates

Enjoy the Pebble Creek Farm Tennis Courts!
We use ReserveMyCourt, your online tennis reservation system. No more worrying with lost sign-up sheets, no more conflicts, and no more hoping there is an open court when you arrive. Our system instantly offers our tennis players access to online reservations.
Reserve a Court
Tennis Court Rules

Our beautiful community pool for residents of Pebble Creek Farm. 
Hours of Operation – 10:00 AM to 10:00 PM
May – September
Pool Schedule
Pool Rules
Prox Card Guidelines
Our Mission
The mission of the Pebble Creek Farm Homeowners Association's (PCFHOA) Board of Directors is to enhance the quality of life in our community through management of common areas, enforcement of rules and covenants, support of initiatives that strengthen bonds among residents, and investment in capital improvements that benefit the greater good.
This website is dedicated for the exclusive use of members/prospective members of the Pebble Creek Farm HOA to support the mission stated above and as a communication tool for upcoming events and happenings.